Booklets are a little more complex to design, for best results please use our booklet TEMPLATES.
Here are rules to follow when creating your Booklets:
• Page counts start on the cover as page 1, inside cover as page 2 and so on.
• Total bleed is .25" and total Safety is .5". For example, an 8.5×11 booklet with bleed should be 8.75×11.25 total. This allows us to set up your crossovers properly.
• Only single pages will be accepted. NO readers OR printers spreads.
• We prefer a multipage PDF but single page files are also ok.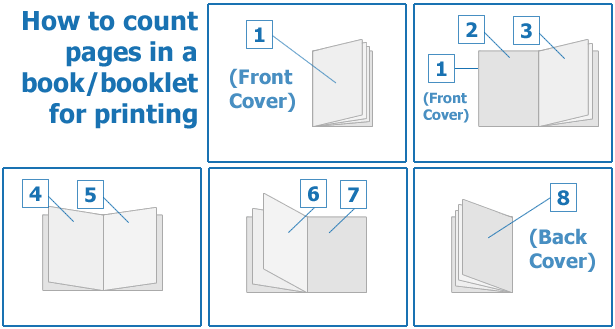 Crossovers
Crossovers are common in booklets and require extra attention. A Crossover is an image, text or other graphic elements that goes from one page to another. Keep text and important images away from the crossover area.
Designers must pay close attention to the crossover design and make sure it is as seamless as possible on the finished piece. Also, do not use text or thin lines as crossovers. Big pictures work best.
Note: Due to the nature of saddle stitch binding, crossovers may not line up 100% on the final booklet.
Artwork completed in Indesign or other layout software as spreads or facing pages must be saved out as single page PDFs. When creating your design, keep this in mind especially when doing crossovers.